Course details
"Banquet" 2 hours drink attached ★ Four season sushi exhaust course 6000 yen ⇒ 5000 yen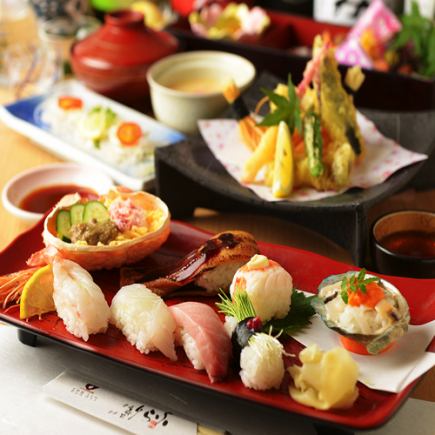 5000 Yen
Normal drinks with all you can \ 6000
All-you-can-drink available

120 minutes All you can drink (last order 90 minutes)
Available days for reservation

Monday - Sunday - Public holidays - Holidays
"Sushi exhaustion course of the four seasons" 【spring】 sticking to the taste of spring, you can fully enjoy sushi, handmade sushi / steamed sushi, "new style" course from the Edo-Era handling ☆ entertainment for loved ones, special day Everyone is satisfied just as you used to.【Only now】 With drinks with all you can !! "5,000 yen" + 500 yen can change premium all you can drink!
Course menu
It can be added at the top of + 500 yen ♪
All you can drink premium at + 500 yen!
【Appetizer Hakka】 Early summer appetizer platter · Grilled dish
【Buying】 New style of red snapper Sashimi
【Fried】 Shrimp Shinji
【Steamed】 Chilled bean paste with remnants
【Sushi 1】 Great Lucky Championships
【Sushi 2】 New style creative sushi
[Sushi 3] Seasonal Edo-in front grip
【Soup】 A lot of red soup of clams
【Sweet taste】 Original '' Wash '' sweets
* It changes to contents by purchase.Please check with the store.
※ With sushi bouquet with + 2500 yen!
※ With cake with + 2500 yen!
All-you-can-drink menu
·beer
· Sapporo black label (raw · bottle)
- A glass of wine
· Garcia (red · white)
Shochu
· Kana (potato / wheat)
·plum wine
· Plain plum wine · Yuzu plum wine
· Sake High
· Lemon · Lime · Grapefruit · Calpis · Oolong · Green Tea
·Cocktail
· Cassis · Campari (Orange · Grapefruit · Soda) / Gin (Tonic · Lime · Back) / Vodka (Moscone Commander · Screwdriver)
·whiskey
· Tris (high ball · lock · water split)
·Soft drink
· Orange · Grapefruit · Coke · Ginjaya · Calpis · Oolong · Green Tea
2018/11/03 update