Course details
"Luxury Sushi Banquet" Four Seasons Sushi Course Course <120 minutes All you can drink> 6000 yen ⇒ 5000 yen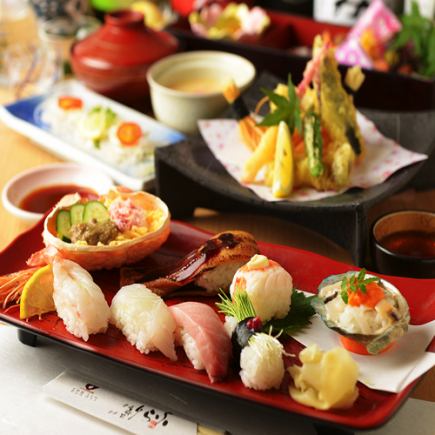 5000 Yen
※ Tax inclusive regular drinks with all you can \ 6000
All-you-can-drink available

120 minutes All you can drink (Last order 90 minutes)
Reservation deadline

Until 21:00 on the day before the desired store visit
Available days for reservation

Monday - Sunday - Public holidays - Holidays
"Seasonal sushi service course" Sticking to the taste of the season, you can fully enjoy sushi, handmade sushi, steamed sushi, "new style" course from the handful of Edo premises ☆ Entertainment for loved ones, on special occasions Everyone is satisfied just as I was using.【Only now】 With drinks with all you can !! "5,000 yen" + 500 yen can change premium all you can drink!
Course menu
All you can drink premium at + 500 yen!
■ Japanese sake: Enayama, masterpiece, drunkard, Kyo Sansui, Nagareyama, one storehouse, Otori
■ Potato shochu: Kokui, too, sweet potato, Mount Tomoho
■ Whiskey: Hakushu, Yamazaki
■ Paul star etc.
【Appetizer Hakka】 Early summer appetizer platter · Grilled dish
【Buying】 New style of red snapper Sashimi
【Fried】 Shrimp Shinji
【Steamed】 Chilled bean paste with remnants
【Sushi 1】 Great Lucky Championship
【Sushi 2】 New style creative sushi
【Sushi 3】 Seasonal Edo-in front grip
【Soup】 A lot of red soup of clams
【Sweet taste】 Original '' Wash '' sweets
* It changes to contents by purchase.Please check with the store.
※ With sushi bouquet with + 2500 yen!
※ With cake with + 2500 yen!
* Depending on the reservation situation, we may be able to guide even "two people".
Please contact us by phone.
All-you-can-drink menu
·beer
· Sapporo black label (raw · bottle)
· Glass wine
· Garcia (red · white)
· Shochu
· Kana (potato / wheat)
·Plum wine
· Plain plum wine · Yuzu plum wine
· Shochu high
· Lemon · Lime · Grapefruit · Calpis · Oolong · Green Tea
·Cocktail
· Cassis · Campari (Orange · Grapefruit · Soda) / Gin (Tonic · Lime · Back) / Vodka (Moscone Commander · Screwdriver)
·whiskey
· Tris (high ball · lock · water split)
·Soft drink
· Orange · Grapefruit · Coke · Ginjaya · Calpis · Oolong · Green Tea
2019/01/17 update