Course details
"Saturdays, Sundays, and holidays Counter seats only" 50 kinds of sushi 60 minutes All you can eat Temp 3700 yen / female 2700 yen (excluding tax)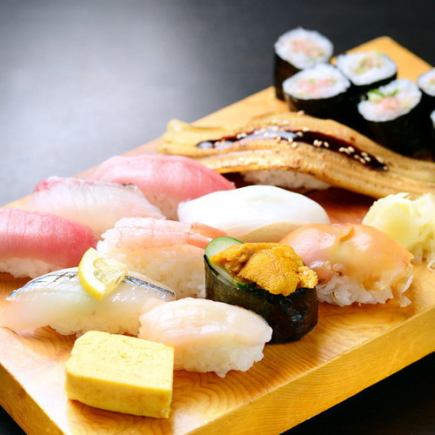 Available days for reservation

Saturdays, Sundays, and holidays
Introduced at Chukyo TV "PS 3rd" 【All you can eat】 10 kinds of high-end neta (as long as you can eat) Even if you eat this much you can get the original !! Defying yourself (> _ <) Do not mind the price, I love you In addition, I will be happy ♪ full of sushi ___ ___ ___ ___ 0Female customers are offering at 2,700 yen per person!
Course menu
<< All you can eat menu >>
Tuna
Lean, medium Toro, large toro
■ White
Red snapper, kanpachi, tiger stuffed horse mackerel
Hikomono
True horse mackerel, sardine, small skin, finished mackerel
Shellfish
Scallop, red shell, white mill shell, shell
Warship
Raw noodles · Ikura · Negigoro · Crab miso
■ Other
Boiled Confit, Eel, Mentaiko, Bintro, Salmon, Ocean Grapes, Various Scrolls
Over 50 types
※ All you can eat for 60 minutes
※ Only available at the counter seat
※ With sushi bouquet with + 2500 yen!
※ With cake with + 2500 yen!
«Request at time of reservation»
* In case of reservation from NET, be sure to select "Counter Seats" and make a reservation.
※ Because of the counter seat limited course, if you make a reservation after table selection from NET reservation
I will change it to a counter.We will contact you that we can not prepare the seat if the counter seat is full.
2018/11/15 update