Course details
【Counter seats only】 Over 50 kinds! 90 minutes Sushi All you can eat & All you can drink ~ Sushi BAR ~ Male 3980 yen / Female 3680 yen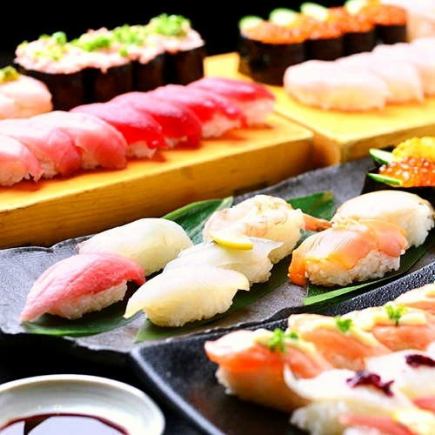 3980 yen
* Tax included + 777 yen for high-end neta 7 can be put up! 【Han Gen】 3980 yen 【Princess】 3680 yen
All-you-can-drink available

90 minutes All you can drink (last order 75 minutes)
Available days for reservation

Monday - Thurs, Saturdays, Sundays, holidays on holidays and holidays
Sushi is something to eat at the counter.Counter Seat only 90 minutes All-you-can-eat Sushi All-you-can-eat & draft beer · HIGH BALL Other drinks All you can drink on weekdays except Friday ⇒ 17: 00 ~, Saturdays, Sundays and public holidays ⇒ All day OK! 【Only for one person for 20 people】 <Male 3980 yen Female 3680 yen> It is possible to attach high-grade neta 7 such as large toro and abalone in +777 yen!
Course menu
【All-you-can-eat all over 50 kinds of full-fledged Edo-front sushi!】
Enjoy the authentic Edo-sei sushi held by craftsmen at counter with full presence!
As limited to 20 people per day, I recommend you to book earlier.
【An example of sushi content】
Tuna
Red / medium Toro
■ White
Red snapper, Kanpachi, Hirame, pencil
Hikomono
True horse mackerel, sardine, small skin, finished mackerel
Shellfish
Scallop, shell, shellfish, bird shell
Warship
Negimoto crab miso
■ Other
Boiled Confitos, Mentaiko, Bintro, Salmon, Various Scrolls
==============================
With +777 yen, you can put up the following high-end neta 7th ※ It is not all you can eat
■ Large Toro ■ Abalone ■ Flounder ■ Red Shrimp
■ Akagaku ■ How much ■
==============================
"Request at time of reservation"
※ We do not go on Friday!
* In case of reservation from NET, be sure to select "Counter Seats" and make a reservation.
※ Because of the counter seat limited course, if you make a reservation after table selection from NET reservation
I will change it to a counter.We will contact you that we can not prepare the seat if the counter seat is full.
All-you-can-drink menu
·beer
· Sapporo black label (raw · bottle)
· Glass wine
· Garcia (red · white)
· Shochu
· Kana (potato / wheat)
·Plum wine
· Plain plum wine · Yuzu plum wine
· Shochu high
· Lemon · Lime · Grapefruit · Calpis · Oolong · Green Tea
·Cocktail
· Cassis · Campari (Orange · Grapefruit · Soda) / Gin (Tonic · Lime · Back) / Vodka (Moscone Commander · Screwdriver)
·whiskey
· Tris (high ball · lock · water split)
·Soft drink
· Orange · Grapefruit · Coke · Ginjaya · Calpis · Oolong · Green Tea
2019/01/17 update